Tips From Your Veterinarian in Canton: How to Prepare for a New Cat
Are you planning on adopting a new cat soon? By preparing beforehand, you can ensure that they have a peaceful and easy transition from the shelter to their new home.
Keep reading to learn some valuable tips from your veterinarian in Canton on how to prepare for a new cat!
Create a Sanctuary Room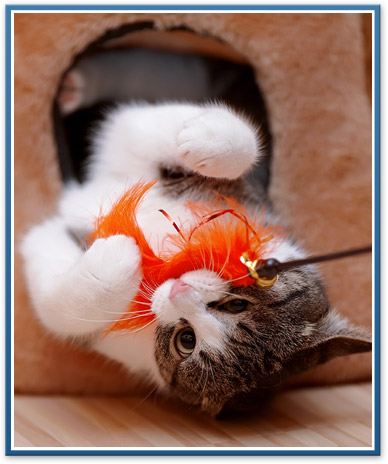 Letting your new cat out into your house without a place to hide and adjust can be detrimental. This is because cats can become easily overwhelmed with the sights and smells of a new environment.
Choose a small room such as a guest bedroom or bathroom where your cat can relax for at least a week. Here are a few of the things you'll need to include in their sanctuary:
Litterbox
Hiding space
Clean water and food
Toys
Keep in mind that this room shouldn't be punishment! It's a place where they can acclimate to their new environment in a stress-free way. You'll know that they're ready to explore if they begin showing more curiosity in what's beyond the door.
Cat-Proof the House
While your cat is relaxing in their sanctuary room, this is a perfect time to begin cat-proofing their house. Begin by removing any hazardous plants that are toxic to pets, such as:
Lilies
Sago palm
Tulips
Azaleas
Amaryllis
Chrysanthemum
English ivy
Pothos
And more
You can find a full list of toxic plants through the ASPCA.org. You'll also want to tie up dangling cords, hide hazardous chemicals, put away food on your countertops, and make sure all doors and windows are latched or locked properly.
Make Slow Introductions
Lastly, it's important that you introduce your cat to members of your family equally as slowly, especially dogs and cats. Allow your pets to smell each other's toys or bedding before they even see each other. Once they're used to one another's smell, allow them to take a look at each other with a screen or gate between them.
The slower you go with introductions, the more likely your pets are to get along with each other for the long term!
Schedule Yearly Appointments With Your Veterinarian in Canton
By taking the time to prepare your home for your new cat, both you and your cat will be less stressed. You'll find that they'll become adjusted to their new surroundings faster, and you can also enjoy a faster, lasting bond with your cat.
Of course, it's important to keep in mind that scheduling an appointment with a reputable veterinarian should never be skipped when it comes to a new pet.
Ready to schedule a new appointment with your favorite veterinarian in Canton for your new cat? Contact us today – we can't wait to meet you and your furry loved one!